PHOTOS 2006:

Our son's Cub Scout pack launched rockets again this year. a came this year too. Our family shots are below, but if you want to see pictures of the rest of the pack, click here!

Our daughter launched Our son's red rocket he build last year.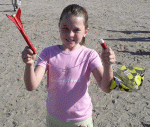 Our son build a mini-rocket. It's small, but it's so lightweight it goes VERY high VERY fast.


Sometime it lands like a dart.


Checking the sky for airplanes and helicopters before launching.


Launching!


The launch controller let's you send up several rockets at the same time. Here we did a Blakely family launch. Left to right are Our son's "Quark", Our daughter's red rocket, a huge rocket that belongs to Our son's friend, and Dad's blue barber pole.



Desert camping in Borrego Springs in November.


The horned owls were in the trees again.


Our son was riding his bike past this cactus and fell in. It's called a "Teddy Bear Cholla, or Flying Cholla" because the pieces "fly" off the plantand get you. All the pieces on the ground are ones s knocked off. When I got there, he had a big piece in his leg, and another in his hand. I probably took about 100 spines out with my pliers.


The piece by my foot is the one that was suck in his leg.


Check out what the sunset did to this cloud! It was only there for a minute, then it was gone.



For Halloween, our son was a skeleton, our older daughter was a butterfly, and our youngest was Piglet.



We took the kids to Bates Nut Farm to get pumpkins this year. They ran the hay-bale-maze, went on a hay ride, and pet animals in the petting zoo.


Our daughter actually caught this chicken and pounced on it. Luckily we got her off before there was any damage to child to chicken.



My cousin Kari married Rob Allen in September. They held the wedding in a barn decorated with a fall apple theme.


Paul spent the ceremony rocking his son, Elijah.



Our daughter had a new cochlear implant put in on her left side. Now she has two! This is right after surgery.



Blakely - Carter Labor Day camping trip to Mt. Laguna


The tree is full of acorns. Woodpeckers make the holes, and squirrels fill the holes.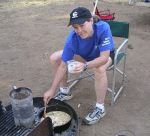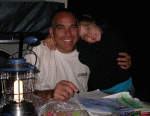 I'm shaking an ice cream maker. You put the ice cream in an inner sphere, and ice and salt in the outer sphere, then everyonetakes turns shaking until you have ice cream.



First day of school



Buddies



The cats sleep with our son every night.



Our daughter reads Daddy's magazine - a future surfer girl?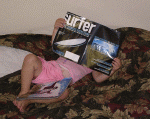 Our daughter fell off her bike and hit her chin. She needed stitches. 2 days later our son did the same thing. Now they have matching scars.



Our daughter celebrated her 2nd birthday this April.



We celebrated Easter with an egg hunt at Grandpa Larry and Grandma Loree's house.



This was Our son's first year as a cub scout. He made a 7-11 pinewood derby car. It was the fastest car in he den.



Our daughter reading the paper with breakfast



Our daughter watching TV in her recliner



Helping Dad make pancakes on Saturday morning



Mike and his long board



Our son played for the Durham Bulls this year



Grandpa Jerry and Grandma Karen visited Scotland this year. They brought back these outfits for the girls.



Marni and the kids went desert camping with Grandpa Larry and Grandma Loree. Marni and the kids stayed in the trailer while Grandma and Grandpa brought their VW camper. Check out the owl they saw in a tree in the 3rd picture.



Our daughter went to a weekend brownie camp. Here she is with her friends.



Marni's parents, Larry and Loralee, moved into our house right after New Years and began remodelingour master bedroom and bathroom. They took a few weeks off here and there, but they worked really hard.In mid-March, they finished. Here is the result.

Palapa bed (bed skirt is in the works)



Marni's scrapbooking desk



Skip fry surfboard with Mike Doyle painting on the deck (signed by both) hanging on the wall. This is the board Marni will get to use once she learns to surf.



View to the bathroom



Through the bathroom door



Corner shower



Side by side sinks



Custom shower tile (and a custom shower pan below it)



Wood surfboard ceiling fan



Another palapa shot



Woody and surfboard print quilt on the bed



Walk in closet (His on the left, Hers on the right)



Ikea closet system



Our daugher a modeling the chair. Note the sand colored stone tile