2008 TIJUANA HOUSE BUILDING PHOTOS:

Our church took about 350 people to Tijuana on Memorial Day weekend to build houses. This year we completed 22 houses. The trip was organized through Amor Ministries who have been building houses in Mexico for decades. Our house was for Francisca and her family. Francisca was living in a shack, with a dirt floor, made from garage doors imported from the US. The house we built has a cement slab and two 11 x 11 foot rooms.


Click on any of the picutres here to see a full size image.


She went from this (Francisca is in the black sweater):


To this:




The campsite we stay at belongs to Amor Ministries. This year there were over 1,000 people in the camp. Below is a panorama shot showing the tent city and surrounding hills.




If you have Google Earth on your computer, here are the placemarks for the campsite and the build site.



The Amor campground

The build site


The drive to the site
On the bus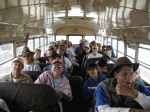 Garage door recycling


Circus


Free electricity


Rodeo arena


Drying bricks




The build
My son and Francisca's son


The saw table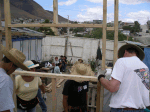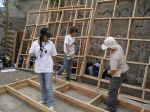 Relaxing back at camp


Chow hall